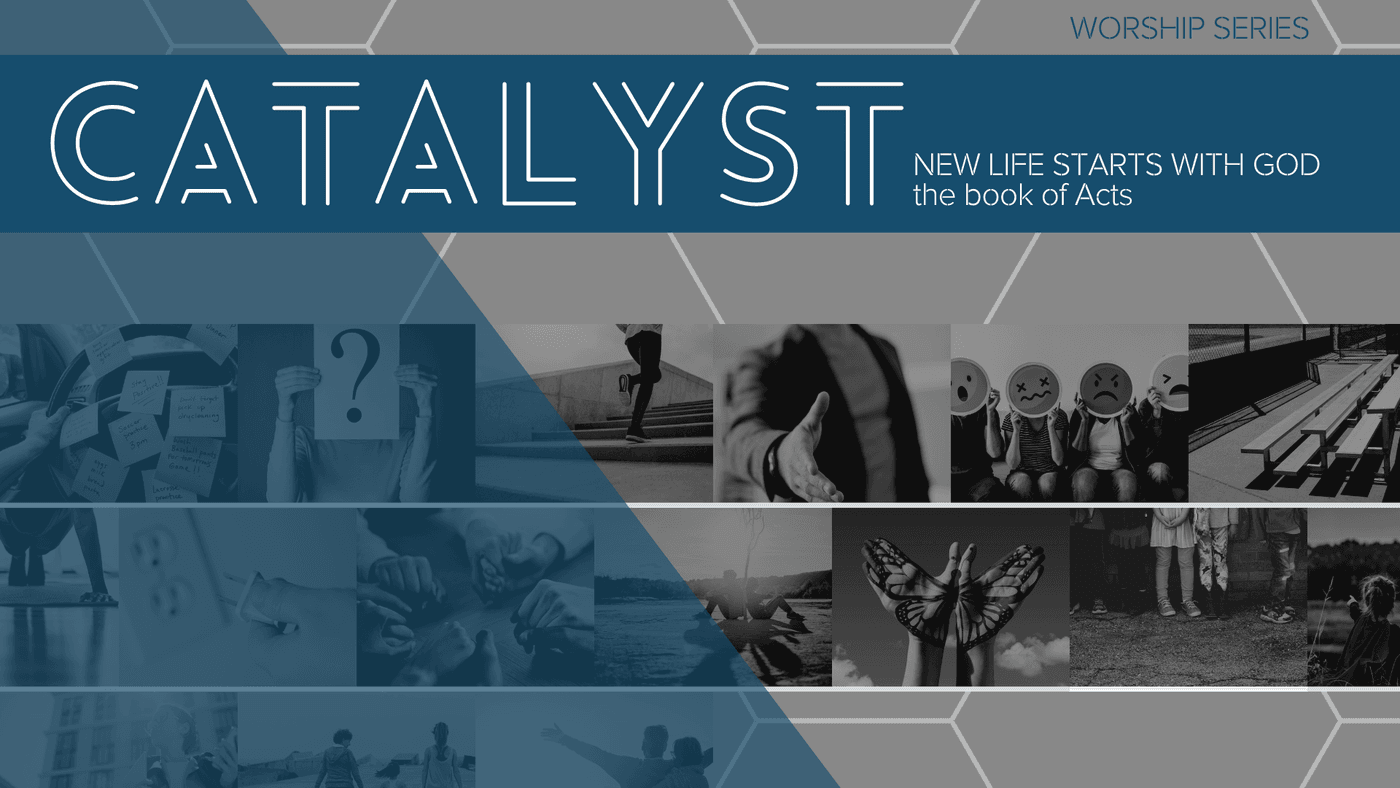 Join us for CATALYST - an in-depth, multi-month series that dives deep into the book of Acts – scripture's recording of what took place after Jesus' earthly ministry ended and the church began. In Acts, it is possible to click the play button and see what the early church was facing, then fast forward to 2021 and see reflections of those same challenges - feeling overwhelmed, struggling with identity, choosing integrity, letting go of offense and anger, knowing our purpose and telling our story. We can let God be the CATALYST that leads us to what happens next in our lives.
READING GUIDE
Along with the CATALYST series comes a NEW scripture reading guide!
Click on the link below to view a PDF or pick up a copy on campus.
CATCH UP ON PAST MESSAGES
Interested in going back and watching previous messages from this series or a past message series?
Check our YouTube channel by clicking here:
Getwell is currently hosting worship on campus and online each Sunday at 9:30 & 11AM.
Worship on our Hernando campus takes place at 9 & 10:30AM.
When Getwell must host ONLINE ONLY worship again in the future, information will be announced on this website, on social media, via text and in our Crosswire e-newsletter when time allows.
ON CAMPUS WORSHIP
The Getwell family meets for worship in the Family Life Center (FLC) each Sunday.
ONLINE WORSHIP
Getwell hosts worship on our live stream and Facebook Live platforms every week. If you attend online and are a member or regular attender at Getwell, please let us know by registering your attendance using the ShelbyNEXT app. If you're brand new to Getwell, we would love to know you are joining us online! Text NEWHERE to 662.262.6505.
READING GUIDE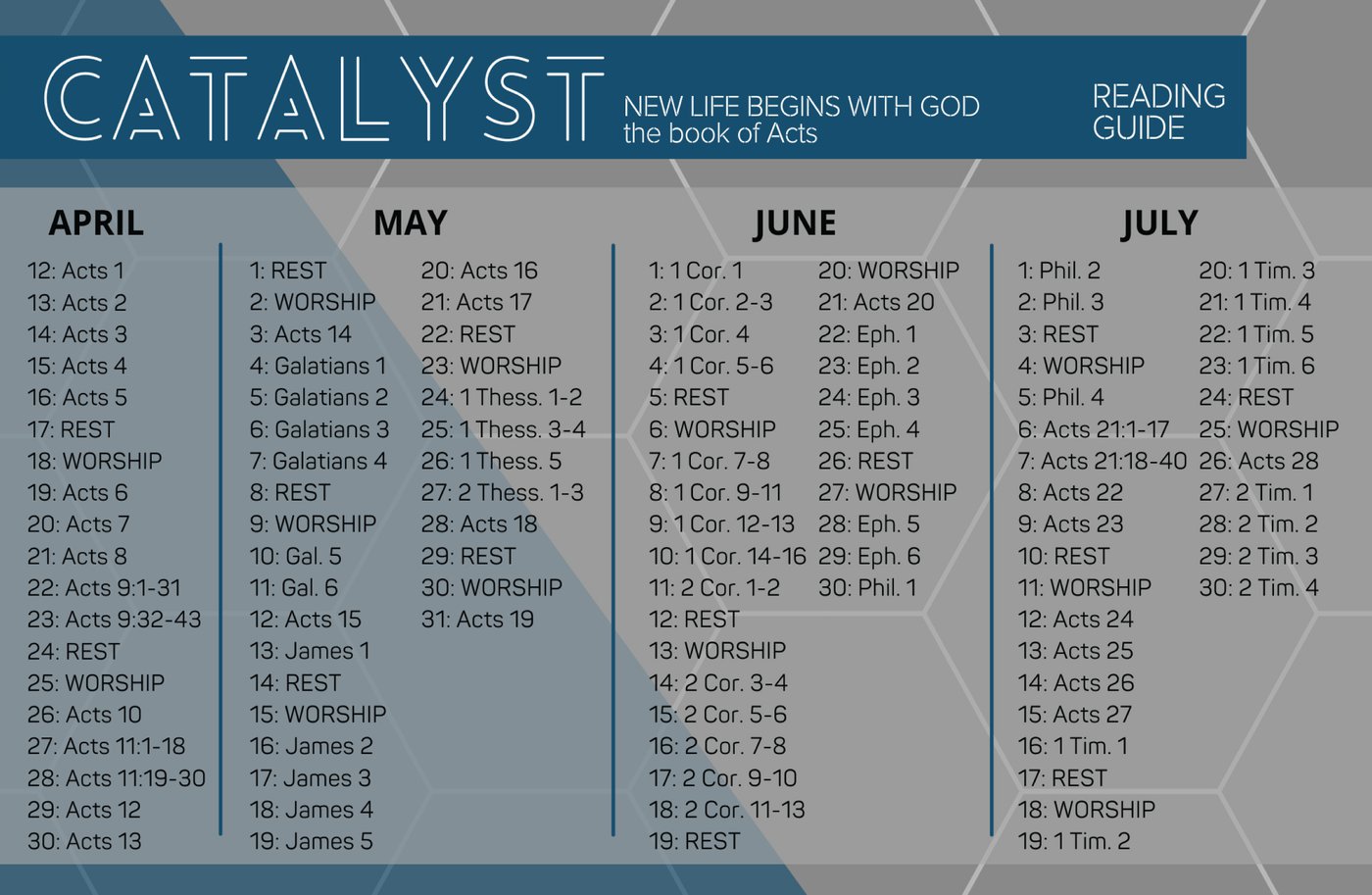 April 18— Acts 1-2/ "Movement of the Holy Spirit"
When I am overwhelmed and overworked, lean into God's Spirit. Let the Sprit be the CATALYST for what happens next.
April 25—Acts 3:1-4:22/ "Power of Being with Jesus"
Many of us have struggled with identity over the past year. We need to remember that what matters most about who I am is that I am connected to Jesus. More than anything else, being with Jesus can be the CATALYST for real impact.
May 2—Acts 4:23-31/ "Don't Back Down—Impact of Boldness"
Life is hard. Sometimes the world seems to be more than we can handle. When I am tempted to give up, pray for boldness and endurance. Be a CATALYST for good.
May 9— Acts 4:36-5:11/ "Integrity Matters"
Lies seem to be more prevalent than truth. In a world where everything is relative and everyone is watching out for themselves, honesty matters. Honesty can be the CATALYST for redemption.
May 16— Acts 6:17/ "Bringing Healing to a Toxic Environment"
Even in the church, relationships and culture can be toxic. We need to commit ourselves to be a CATALYST for good by working toward solutions rather than dwelling in the symptoms.
May 23— Acts 7:59-8:40/ "The Church Scattered"
The church is meant to gather, but we gather so that we can go out with the mission. We cannot just be church on Sunday. We have to be church everywhere that we go.
May 30— Acts 9:1-31/ "Necessary Discomfort"
Growth usually requires discomfort. In order to get wiser, stronger, and more mature, we will have to learn to embrace moments of discomfort as a CATALYST for change.
June 6— Acts 12/ "The Power of God"
When we want to see change or movement, we focus on what we can do. While this is important, what is MOST important is what God can do. One CATALYST for good is to work hard while I trust and pray knowing that real power is with God.
June 13— Acts 13:1-3; 14:26-18/ "We Don't Do This Alone"
We need each other. We cannot and should not do life alone. We certainly cannot live out our mission alone. We need one another from start to finish to be a CATALYST for God's love to spread around the world.
June 20—Acts 15/ "Letting Go of Anger and Offense—EMBRACE GRACE"
Our world is angry and easily offended. The church cannot be so. In order for us to be a CATALYST for change, we must be known for love, grace, and truth.
June 27—Acts 16/ "Life Change Births Life Change"
The greatest CATALYST for lasting life change is a person whose life has been changed by the love of God. When a person who has been transformed by Jesus is empowered to lead, great things happen.
July 4—Acts 17/ "One Gospel for All Kinds of People"
The early church encountered all kinds of people—some were stubborn while some were searching for answers; some were living for pleasure while some were living for knowledge. No matter what a person's perspective, the news of Jesus was good news for all.
July 11—Acts 18:1-19:22/ "Hero Maker"
The best accomplishment in life is not to be a hero but to make heroes of others. To get started with need a passion and a person. It is time to start investing in the person who just might be the next hero for someone else.
July 18—Acts 20/ "What are You Living For?"
Without purpose life becomes empty and boring. Life has meaning to be embraced and every person has a purpose to engage. Knowing our purpose becomes the CATALYST for joy, endurance, and peace.
July 25—Acts 26/ "Tell Your Story"
We all have a story to tell. When that story involves God moving in our lives, we have a calling to share that story with others. When we experience redemption on the other side of pain, our stories can be the CATALYST for someone else's redemption as well.
August 1—Acts 28/ "Shake It Off"
Bad things are going to happen—that is a guarantee. Some of the bad things that happen are completely out of our control. But the one thing that we can always control is how we respond to what happens. We never have to act like a victim. We can have victory in Jesus and should never underestimate what God is about to do next.