CURRENT WORSHIP SERIES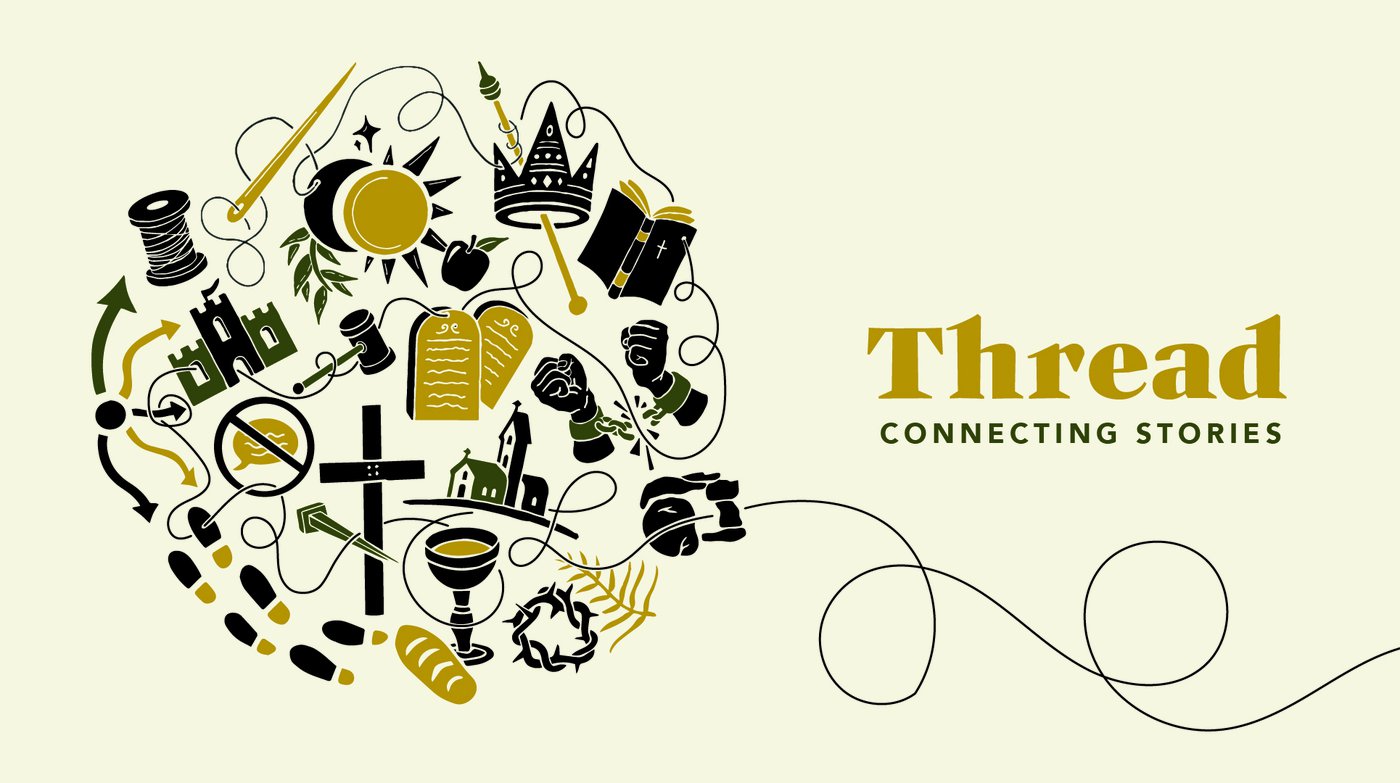 Getwell is currently hosting worship on campus and online each Sunday at 9:30 & 11AM.
When Getwell must host ONLINE ONLY worship again in the future, information will be announced on this website, on social media, via text and in our Crosswire e-newsletter when time allows.
ON CAMPUS WORSHIP
The Getwell family meets for worship on Sundays at 9:30 & 11AM in the Family Life Center (FLC). Currently, masks are required for anyone on campus attending worship or other groups or meetings. Please help us continue to keep everyone safe by bringing and wearing your mask! If you forget, stop by the Welcome Center and pick one up.
ONLINE WORSHIP
Getwell hosts worship on our live stream and Facebook Live platforms every week! If you attend online and are a member or regular attender at Getwell, please let us know by registering your attendance using the ShelbyNEXT app. If you're brand new to Getwell, we would love to know you are joining us online! Text NEWHERE to 662.262.6505.
READING GUIDE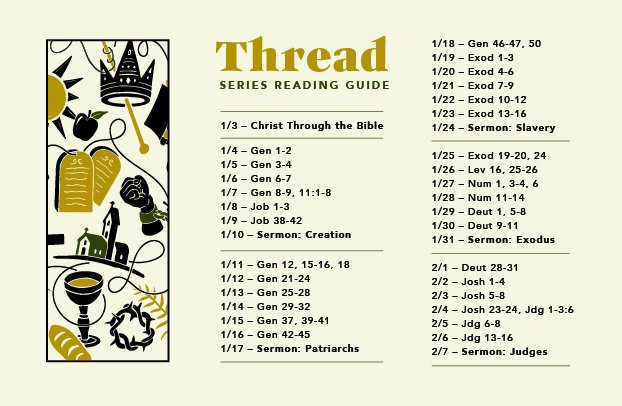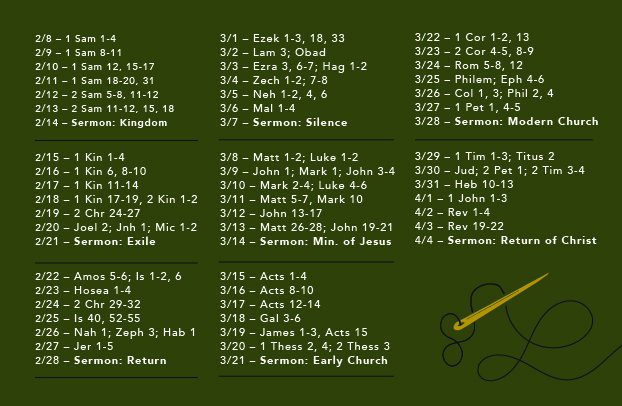 FOLLOW THE THREAD...
January 3—Jesus Through the Bible
Genesis 3:14-19 (and various texts); Genesis 5:3-32
Jesus is not just in the Gospels. His story is even bigger than the New Testament. Jesus is all over every page of scripture. Jesus has always been the goal, the hope, and the rescue.
January 10—Creation
Genesis 1:1-2, 26-28
In creation we see two primary purposes of God's creation—Glory and Gift. All things point to God's glory and in His glory, God gives the gift of life.
January 17—Patriarchs
Genesis 22:1-18
The Fall introduced a hopeless problem for mankind, but God had a plan. God makes a covenant with Abraham that points forward to a solution to our sin problem – Jesus, who is the blessing to all nations through his sacrifice for our sin. Abraham must believe in the Lord's promise of fulfillment, both in the present and for the future.
January 24—Slavery
Exodus 1:6-12; Exodus 3:1-8
Even though they prospered, the people of Israel still found themselves in slavery. Though it seemed as though God was absent, God heard their cries and was working out their rescue.
January 31—Exodus and Conquest
Exodus 7:1-5
To free His people from slavery, God performed 10 miracles of escalating intensity. In every miracle, God was showing both His power and His presence. God will stop at nothing to free His people from bondage and lead them to His promises.
February 7—Judges
Judges 2:11-23
Despite the miracles that God's people had experienced, the grip of sin continued to plague them. Even though they disobey him, God hears the cries of his people and raises up saviors to help defeat their enemies – it becomes a cycle they can't break. But God will break this cycle once and for all by the ultimate Savior he raises up for us to defeat our enemy, Satan.
February 14—Kingdom
1 Samuel 8:1-9; 1 Samuel 16:1-13; 1 Kings 2:1-4
The Israelites find themselves in a familiar pattern—crisis, turn to God, rescue, regression. Sound familiar? Through the kingdoms of Israel and Judah we find one resounding truth that doesn't fade or compromise—God is just and God is gracious.
February 21—Exile
Jeremiah 52:12-16, 24-30; Lamentations 3:20-32, 55-57
Sin and bad decisions have real consequences. We often find ourselves in a place that we don't want to be. Even then, God is powerful, and God is good. There is always hope when we turn to God.
February 28—Return
Ezra 1:1-11
As the Israelites return from exile, they are led by Zerubbabel, Nehemiah and Ezra to rebuild the temple and wall and renew their covenant with God and His law. Those who endured the exile experience God's fulfilled promise of return. God's judgement is always coupled with hope for restoration. But even in being restored to the land, the problem of sin is still alive and active.
March 7—Silence
Amos 8:11; Isaiah 49:8-11; 2 Corinthians 6:1-2; Romans 5:6-11
As Amos prophesied, the world experienced a time of silence when God did not speak through His prophets. But in that time God was neither distant nor inactive. He was setting the stage for Jesus.
March 14—Ministry of Jesus
Luke 4:16-21, 31-32; 24:1-12
For many, the life of Jesus did not meet expectations. He was not the kind of king that people were looking for. So, when He showed up, they did not recognize Him. When He died, they did not know what He was doing. When He rose, they could not believe it. Let us not be blinded by our own expectations, but let us see what God is really doing.
March 21—Early Church
Acts 2:1-47
Following the resurrection and ascension of Jesus, the promised Holy Spirit is poured out upon the believers in Jerusalem. God's redemptive plan continues to unfold. The Good News of Jesus Christ spreads to Jews and Gentiles – toward the ends of the earth. The early church follows the example of Jesus and participates in bringing about the Kingdom of God on earth.
March 28—Modern Day Church
Revelation 1:9-20; Revelation 20:11-15; Ephesians 6:10-12
As God's church, we carry on the mission of God to make disciples of Jesus Christ. We cannot get discouraged, divided, or distracted from this mission. We carry on with a single mission and an unending hope.
April 4—Return of Christ
Luke 24:44-49; Acts 1:6-11; 1 Thessalonians 4:15-18; Revelation 21:1-7
Jesus rose from the dead, just like He said He would do. And one day Jesus is coming again! This world is not our hope and the disappointments we face are not the end of the story. Be ready—God is doing a new thing!