What To Expect...
We're so glad you've found your way here to learn more about Getwell Church. We hope you'll visit us soon!
Here's some information you might want to know before you get here.
SERVICES and GATHERINGS
Sunday Worship at on our Southaven Campus at 9:30AM and 11AM (Hernando Campus meets at 9 & 10:30AM)
Coffee & Conversation - for those new to Getwell - stop by for a quick gathering with Getwell staff and pastors and say hello! Second Sunday of each month following both worship services, in The Commons (north of worship room)
Discipleship Groups/Small Groups/EQUIP Classes on Sundays or other days throughout the week
See the Upcoming Events page (under the "CONNECT" tab) for special worship services or other events!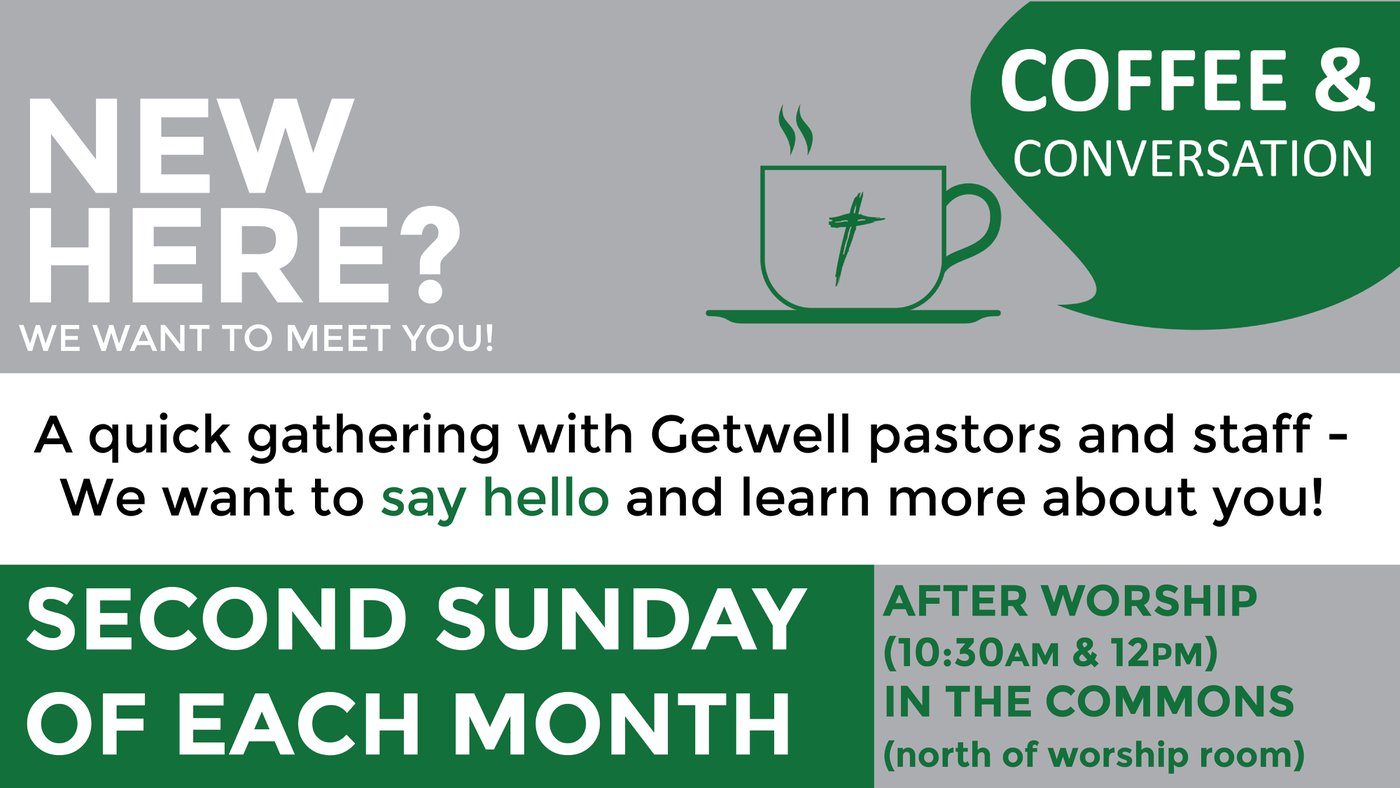 HOW TO FIND US
Click HERE to find us on Google Maps, or follow the directions below - look for the church with the green sign and green roof!
From I-55:
Take the Goodman Road/Hwy. 302 exit toward Olive Branch. Travel approx. 3.3 miles to Getwell Road and turn left. We are about one mile down on the left.
From Highway 78/Olive Branch:
Travel west on Goodman Road leaving Olive Branch. Drive approx. 6.5 miles to Getwell Road and turn right. We are about one mile down on the left.
FREQUENTLY ASKED QUESTIONS
How do I find out more about Discipleship Groups, classes and Small Groups?
Several classes and Discipleship Groups meet on Sunday mornings and small groups meet on Wednesday nights or throughout the week. There are many options available for adults, plus classes for students and kids. We want to help you find a class or group that you will enjoy! Stop by the Welcome Center in the lobby before or after each worship service and talk with a Hospitality Team member. You can also find a listing of our classes and small groups under the Connect section on the Adults page. For additional questions, please contact Susannah.Fox@getwellchurch.org.
What should I wear?
Dress comfortably! Some people dress up, some wear jeans, and in summer, some wear shorts and sandals. However you choose to dress, you will not feel out of place!
Where do I go if I arrive early for worship or a class/small group?
Make a beeline for the Main Street coffee area to get your caffeine for the morning, which is located at the top of the main hallway (between the FLC/worship room and the Children's Building). This is a favorite place to hang out when you have a few extra minutes. You could just follow your nose, but for those who prefer actual directions, here's how to find it: If you enter through the main front lobby, walk toward the elevator and then take the hallway to your right. If you enter from the nursery/children's building area on the south part of campus, walk up the main hallway toward the worship room and you can't miss it!
What is it like to visit Getwell Church?
At its heart, Getwell Church is welcoming, and we expect you to feel that from the moment you drive onto the campus. Getwell is a relaxed, casual atmosphere with an underlying current of excitement to see what God is going to do in this place.
WHAT ABOUT MY KIDS?
Where do I take my kids?
Kids of every age have a great time at Getwell! Kids pretty much have the run of the south side of our campus - first floor for nursery (birth-PreK), second floor for K-2nd kids and two halls for 3rd-5th grades just south of the FLC (worship room). A Hospitality Team member would love to meet you and your family at the Welcome Center in the FLC lobby, walk with you to the Kids Building, and answer any questions you have along the way. Hospitality Team members are available at the Welcome Center before and after each worship service to assist in making sure your kids are settled in to be well cared for and have fun while you attend worship or a group or class.
Your child's safety is our priority, and for that reason we have a detailed check-in process. The first time you visit, we will get some contact information and each following week, your child will be checked in to our electronic database via a kiosk that helps us keep track of where your child should be at all times and who is picking them up when they're done. If you know you're planning to visit and would like to fill out the info form ahead of time, click the button below.
LET US KNOW YOU'RE COMING
If you're planning to visit Getwell Church in person, we can't wait to meet you! If you'd like to go ahead and let us know you're coming, complete the form below to give us some contact info. Thanks!