GETWELL CHURCH ENDOWMENT
The mission of the Getwell Church Endowment Fund is to provide funding to help educate, train and resource future leaders in ministry, for both Getwell Church's main campus and current and future satellite campuses, as well as churches and other organizations across the U.S. and beyond.
The Fund is based on mutual stewardship and is a partnership between church members and the church itself. By supporting the Fund, church members act as stewards to and for their church. Using the income generated by the Fund to fulfill its mission, Getwell Church acts as a steward to and for our members and community. Supporting the Fund ensures that Getwell Church's mission and vision will thrive for years to come.
Getwell Church plans to hold periodic workshops on the Endowment Fund, ways to contribute, and the financial advantages of doing so. Watch church communications for info on scheduled workshop dates.
For additional information regarding the philosophy, administration and investment objectives for managing the Fund, a copy of the Investment Policy Statement is available through the church office.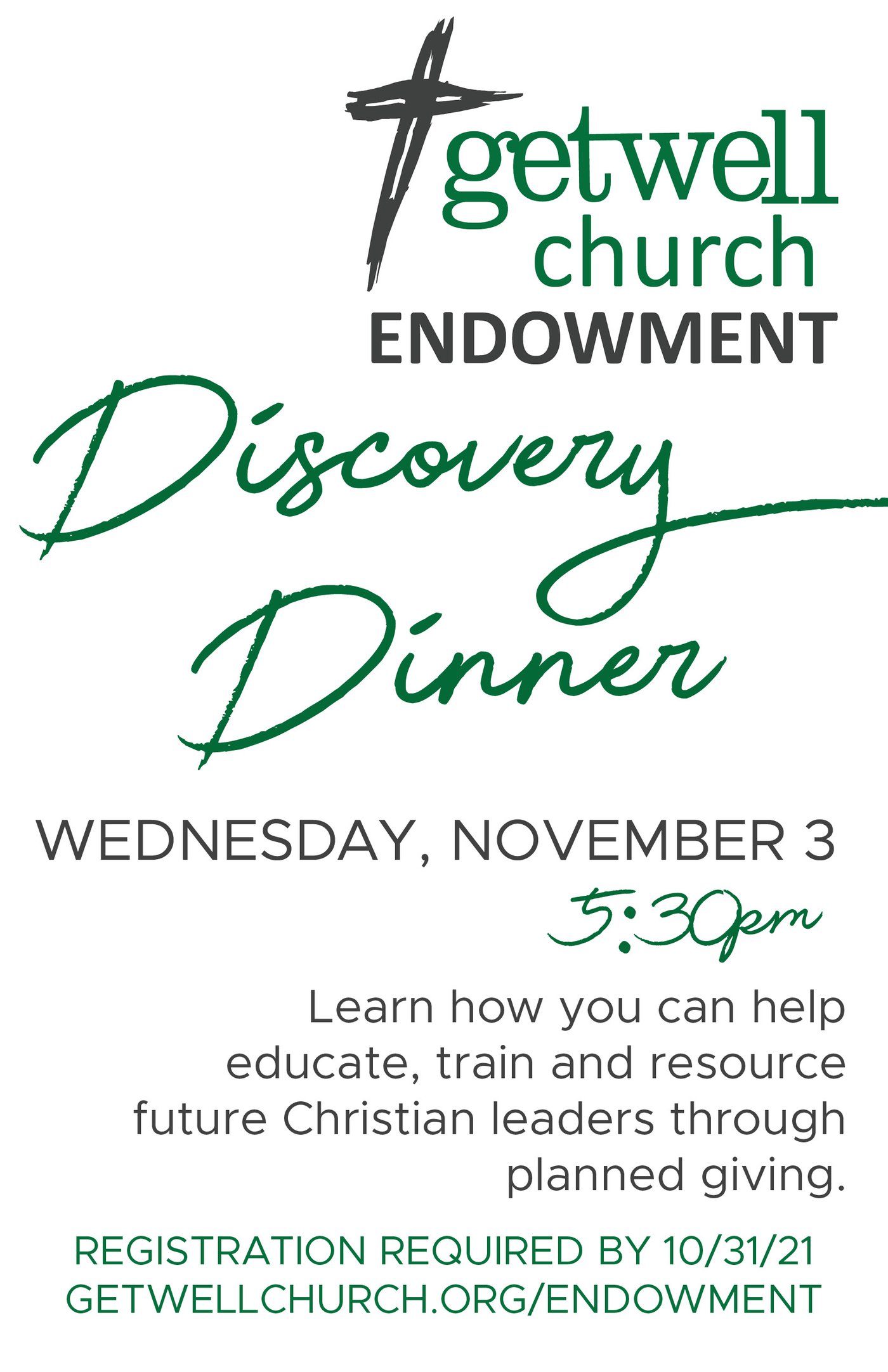 REGISTRATION FOR THE DISCOVERY DINNER IS NOW CLOSED. WATCH FOR FUTURE WORKSHOPS OR DINNERS IN THE FUTURE!
FUNDING OPPORTUNITIES
1) Funding for individuals of Getwell Church who are seeking seminary training.
2) Funding for RESIDENT MINISTRY PROGRAM candidates: Getwell has joined with The Orchard in Tupelo in their Resident Ministry program, gives candidates an opportunity to explore full time ministry for a year in the local church as they prayerfully consider ministry as a career path. Residents gain experience in the practical side of a selected area of ministry, along with foundational instruction in Biblical doctrine and beliefs. The Endowment Fund would provide necessary funds while candidates serve in ministry during their year commitment. This program will also serve as a source from which to draw future trained leaders in the local church.
3) Funding seed money for ministry needs of future Getwell satellite campuses.
GIVING OPPORTUNITIES
MONETARY / IN KIND GIFTS
This kind of giving to the Fund, above and beyond the tithe, can be given at any time. There are no gifts too small, and you can choose to make individual, one-time contributions or to make regular monthly contributions. Gifts can be given through online giving at give.getwellchurch.org by choosing the "Endowment" fund option, or via check (note "endowment" in the memo line) or by cash to the church office.
LEGACY GIVING
When someone passes away, much thought is given to the legacy they leave behind and how they will be remembered. Legacy Giving, put simply, is "your last tithe" - taking part of the estate and worldly goods that have been accumulated in this life and dedicating a portion to the Endowment to support the future building of God's Kingdom.
LIFE INSURANCE GIVING
The Fund can also be resourced through permanent life insurance policies. In this method of giving, the church is designated as the irrevocable beneficiary of the policy and the donor, through IRS regulations, can deduct the premium payments as charitable contributions. To put it simply, it means buying an insurance policy designating the church as the sole beneficiary. This is a wonderful way to be forward-thinking and leave a legacy through giving.
MEMORIAL/HONOR GIVING
This Endowment Fund offers a specific way to direct gifts in honor of milestone occasions or memorial gifts following the death of a loved one. These gifts would create a beautiful way to honor or memorialize a loved one while supporting ministry training and education for years to come.
For more information on the Endowment, contact Bill.Beavers@getwellchurch.org.