Getwell is currently hosting worship on campus and online each Sunday at 9:30 & 11AM.
Worship at our Hernando Campus takes place at 9 & 10:30AM.
If Getwell must host ONLINE ONLY worship again in the future, information will be announced on our website, on social media, via text and in our Crosswire e-newsletter when time allows.
ON CAMPUS WORSHIP
The Getwell family meets for worship in the Family Life Center (FLC) every Sunday at 9:30 & 11AM.
ONLINE WORSHIP
Getwell hosts worship on our live stream and Facebook Live platforms every week. If you are not able to join us in person, please join us online! If you attend online and are a member or regular attender at Getwell, please let us know by registering your attendance using the ShelbyNEXT Membership app. If you're brand new to Getwell, we would love to know you are joining us online! Text NEWHERE to 662.262.6505.
CURRENT SERIES...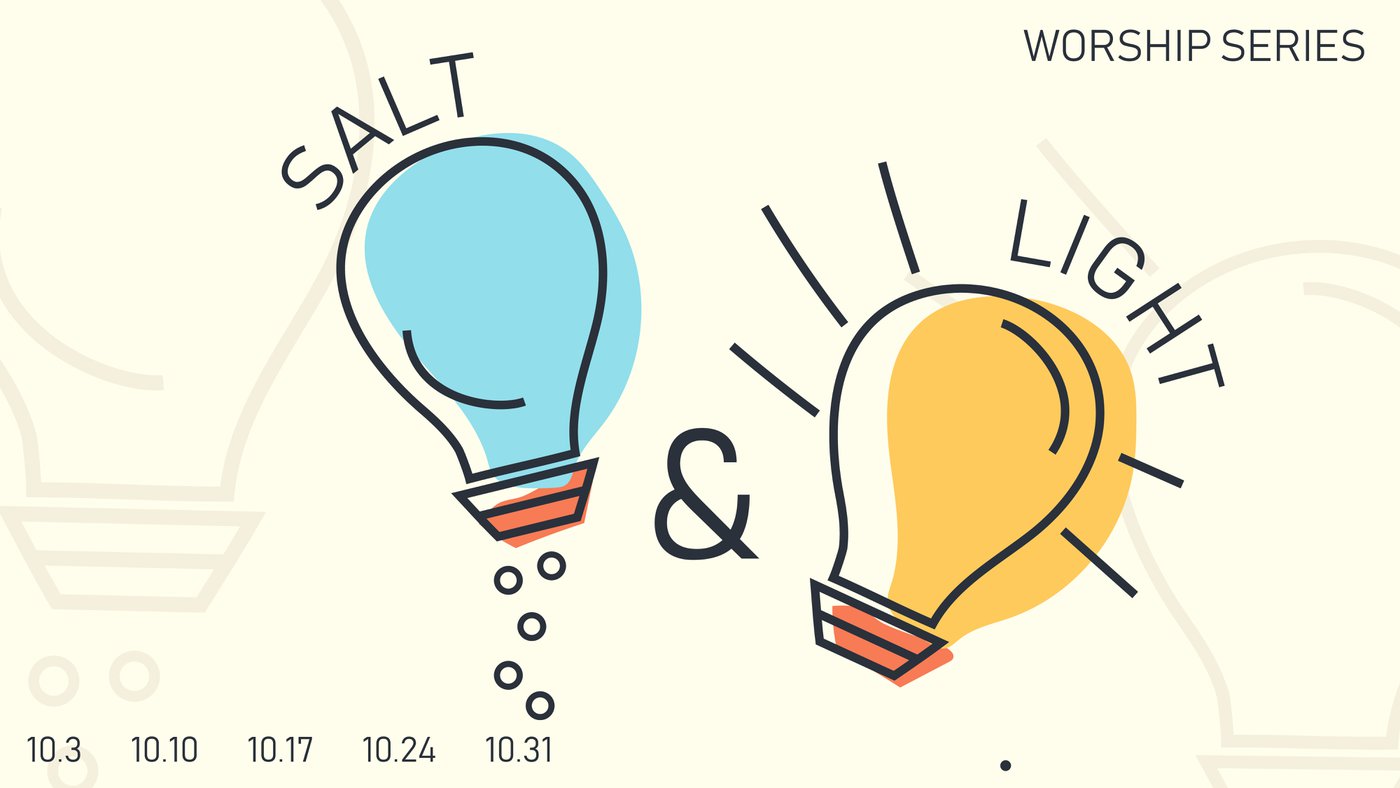 We've heard the truth many times—"we don't just go to church, we are the church." Church is more than a destination. The church is the followers of Jesus living on God's mission in the world. In the sermon on the mount, Jesus tells us that His followers are to be SALT and LIGHT in the world. We are called to make the world better with our words and actions, we are to shine a light on Jesus so that others can see Him, and we are to be in the world but not of the world. Jesus is calling us today to bring truth and love to the world. We cannot shy away from the world or get frustrated from a distance. We get to know the people around us and love them well in the name of Jesus.
WEEK 1: Salt and Light (Matthew 5:13-20)
Jesus tells us that His followers are both salt and light. Jesus has a purpose for your life—to make the world better and point to Him in everything that you do. Am I being salt in the way Jesus intends? Am I shining the light on Jesus in every part of my life?
WEEK 2: We Over Me (Hebrews 10:19-25)
Unity is one of the most powerful forces on earth. Unity has the ability to heal loneliness, division, and isolation. As the church, we embrace the mission over preference as we put God's Kingdom first in all things. I realize that I am not alone—neither in my struggles nor the mission.
WEEK 3: Synthesis (Ephesians 4:1-6, 17-24)
The whole is greater than the sum of its parts. This is the way of the church. With the Holy Spirit at work in our lives in the church, we do more than just add our gifts and talents together. When we commit ourselves to the work of God in our lives, God makes us more than we could ever create on our own and He does more than we could ever imagine. The results and changed lives can only be attributed to God.
WEEK 4: Eden in Babylon (Jeremiah 29:4-14)
The world that we live in is far from ideal. It isn't at all what any of us want it to be. Yet, we cannot fall to the temptation to run away from the world and its problems. When Israel was living in exile (far from where they wanted to be), God told them to plant where they were. We, too, need to plant where we are. In the midst of trouble, we can work to bring good and beauty to the people around us.
CATCH UP ON PAST MESSAGES
Interested in going back and watching previous messages from the current series or a past message series?
Check our YouTube channel by clicking here:
CELEBRATE PRAISES AND ASK FOR PRAYER
We want to continue to celebrate praises and pray over requests with you! If you would like to submit a prayer or praise, click the button below.
GIVE ONLINE
Click the button below to give online, or you can also mail your offering/tithe to the church (7875 Getwell Road, Southaven, MS 38672) or drop your offering/tithe off at the church office in the secure black metal drop boxes on the south and west sides of campus.