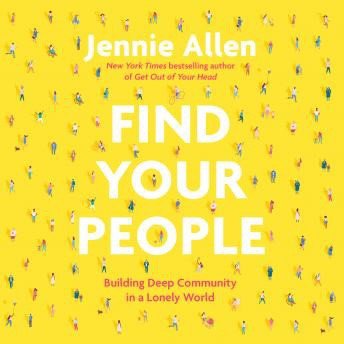 You have not one, but TWO chances to catch Jennie Allen's newest study, "Find Your People," with Getwell Women!
Tuesdays from 9-11AM (September 13 - November 1
Wednesdays at 6PM (during EQUIP: Wednesdays)
In a world that's both more connected and more isolating than ever before, we're often tempted to do life alone, whether because we're so busy or because relationships feel risky and hard. But science confirms that consistent, meaningful connection with others has a powerful impact on our well-being. We are meant to live known and loved. But so many are hiding behind emotional walls that we're experiencing an epidemic of loneliness. Join us for this study as we seek to overcome the barriers to making new friends and learn to initiate relationships that strengthen your walk with Jesus.
CLICK TO REGISTER:
bit.ly/GWFindYourPeopleTuesday
bit.ly/GWFindYourPeopleWednesday
Want to get connected with other women at Getwell? Here are a few options!
Bible Studies
Getwell Women hosts Bible studies throughout the year. Watch this page, the Crosswire e-newsletter (sign up on the Getwell News page) and the Getwell Women social media for details!
Hearts To Hands Serving Team
These ladies do everything from baking cookies to delivering meals, and more! Stop back by this site periodically for information on upcoming opportunities to serve.
Women's EQUIP Class
Join other women in a small group learning environment as you learn about God's beautiful gift of His Word - The Bible.
Meets Sundays at 9:30AM in FLC Room 3209.
Women's Prayer Group
Meets every Wednesday at 9AM in the Prayer Room to pray over specific requests from the Getwell congregation and our community.
Questions about Getwell Women? Contact Kim.Ball@getwellchurch.org.