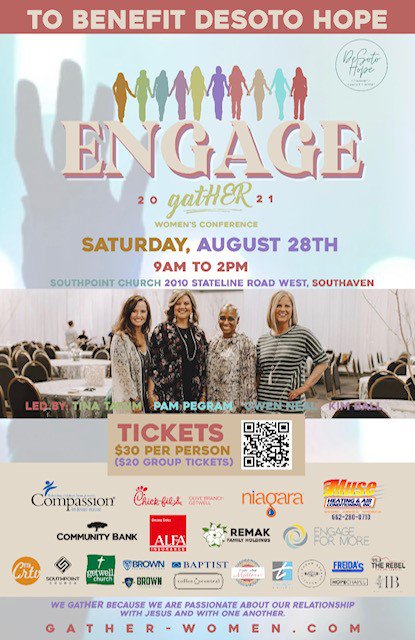 Please make plans to GatHER together on Saturday, August 28 from 9AM- 2PM at Southpoint Church in Southaven.
gatHER exists to: encourage, connect and mobilize women to develop deep spirited relationships within the community for the sake of Christ. We believe that women are uniquely gifted with a heart of passion and compassion to make a difference in the home, church and community. We want to help facilitate that calling by offering opportunities for women to grow in intimacy with Jesus and one another.
Join us as we ENGAGE together in worship of our Lord and Savior!
Tickets are $20 for group pricing. If you would like to attend, contact Kim Ball at Kim.ball@getwellchurch.org to purchase a ticket.
Want to get connected with other women at Getwell? Here are a few options!
Hearts To Hands Serving Team
These ladies do everything from baking cookies to delivering meals, and more! Stop back by this site periodically for information on upcoming opportunities to serve.
Women's EQUIP Class
Join other women in a small group learning environment as you learn about God's beautiful gift of His Word - The Bible.
Meets Sundays at 9:30AM in FLC Room 3209.
Women's Prayer Group
Meets every Wednesday at 9AM in the Prayer Room to pray over specific requests from the Getwell congregation and our community.
Questions about Getwell Women? Contact Kim.Ball@getwellchurch.org.